Silverado Ranch offers a Texas size variety of authentic western props and custom décor to choose from.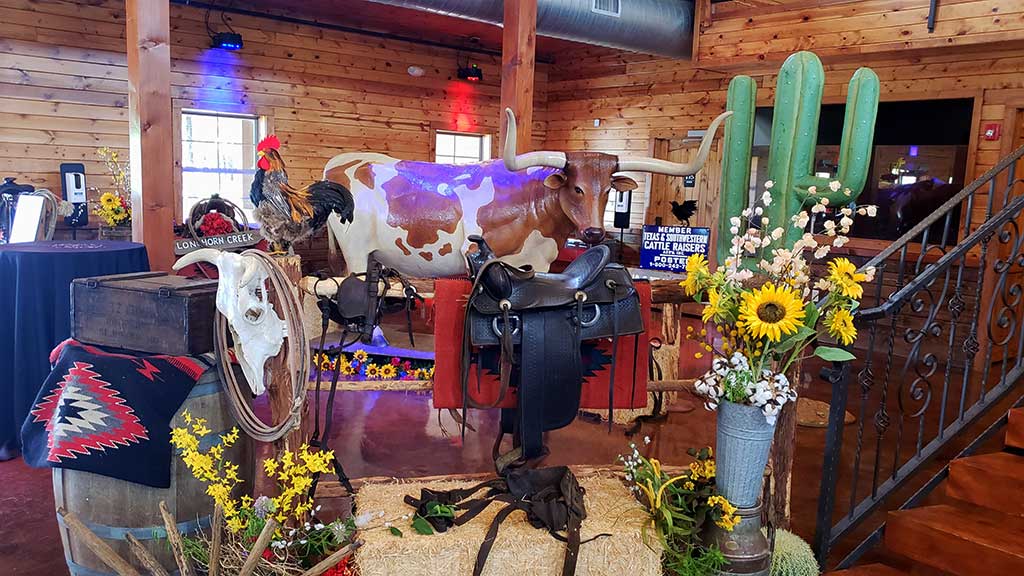 * TO SUBMIT YOUR ORDER * 
Please scroll down and view our photo gallery of western rental items as they are set for placement at events and trade shows.
If you see a particular prop item/s that you would like to rent or request pricing, use the number located directly over each item photo as your reference number.
Fill out the form and list the quantities and the reference number/s of your selection/s along with any specifics that you'd like to add.
If you do not see what you are looking for list a description and we will reply with availability.
When you have completed your rental selections click the SUBMISSION FORM BUTTON at the bottom of the form.
Please be sure to fill out any / all required spaces identified with a * red asterisk or your form WILL NOT SEND.
Once your submission form is received we will construct a rental agreement or pricing based on the information that you submitted and it will be emailed within 24 hours.
Feel free to call us for any assistance at any time and please follow up to make sure that your form was received. 
Enjoy your Western Prop Rental scrolling!  
LOOK WHAT'S NEW FROM SILVERADO RANCH!
Western Hat Bar & Hat Ranch
Sheriff's Office - County Jail Facade
38 inch high Cedar Vehicle Display Fencing
Wagon Wheel Fencing View 1
Oasis Watering Hole Saloon Facade
10ft X 10ft RANCH ENTRY TRADE SHOW BOOTH - FRONT
10 FT X 10 FT RANCH ENTRY TRADE SHOW BOOTH - SIDE VIEW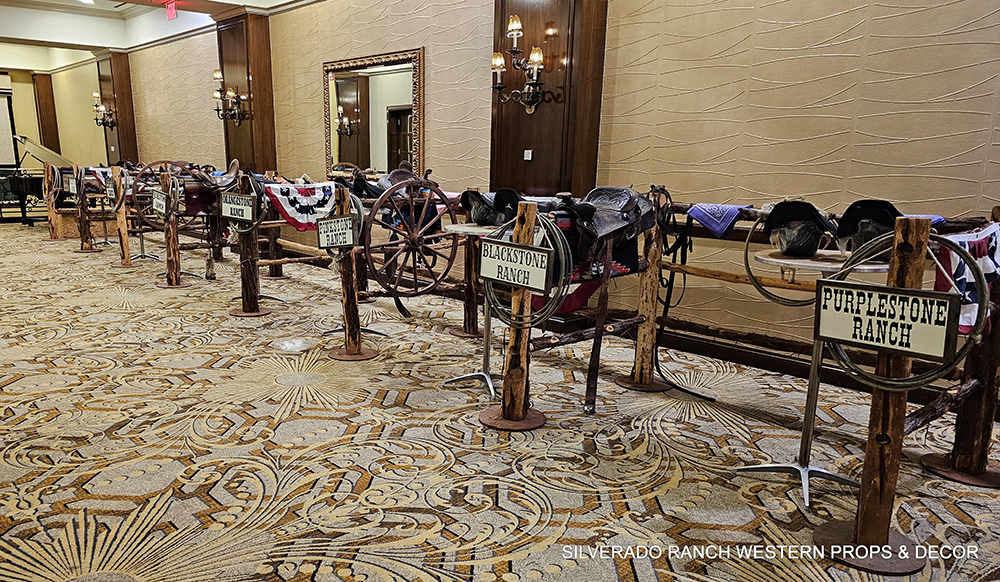 60 FT x 4 FT deep CEDAR TRADESHOW BOOTH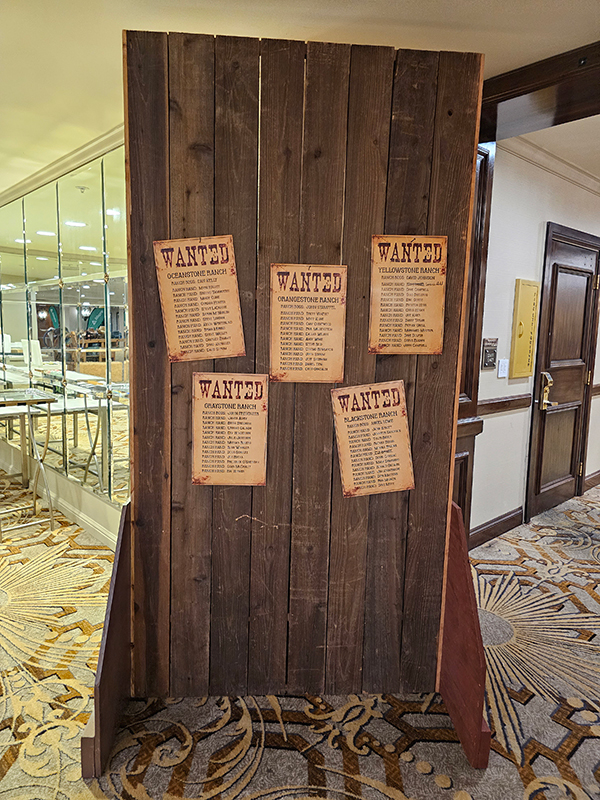 Round Up - The Roller Roper
Spanish Fighting Bull 'EL DIABLO' with décor
4ft Howling Coyote Centerpiece / Prop
Whiskey Barrel Monitor Table with Haybale Barstools
Texas 'Lone Star' Windmill
Quick Draw Haybale and Barrel Setup
Western Bar Furniture and Décor
Metal Bar Stools with woodgrain seats
Western Bunkhouse Furniture & Décor
Leather & Cowhide Lounge Furniture
Floral, Tables, and Table Settings
Western Centerpiece on Denim Tablecloth
Rustic Table and Chairs with Lanterns
Rustic Table and Sunflower Setup Bull Windmill
Flower Arrangement with Wood Base
It's not a real Texas Special Event without the Mechanical Bull!
MAT MEASUREMENTS – 15′ X 15′ X 45

" 
REQUIRES 

 20′ X 20′

 LEVEL AREA FOR PROPER PLACEMENT
WITH (1) 

220V/ 30  AMP  AND 

(1)

 110V / 20 AMP

  POWER
OUTLETS WITHIN 

65′

 OF THE MECHANICAL BULL SETUP
*

Requires a 220 volt power connection
Award Winning Trade Show Booths, Props and Custom Backdrops
20ft zig zag decorated cedar fencing,12ft x 20ft steers
at Longhorn Creek Backdrop & "Tex" w/ steps
New black & white cows @ Grand Ranch Entry II
Check out some recent event pictures
THE HOME DEPOT - MANDALAY BAY HOTEL - LAS VEGAS
OLD WEST GENERAL STORE ENTRY
20ft Wide x 12ft high
OLD WEST GENERAL STORE FACADE
Saloon Entrance-Windmill-Haybales
Mechanical Bull Ride Sawdust Stampede
Mattress Firm - Houston Rodeo Expo - Houston Texas
Ranch Grand Entry I 40 ft. Overall length x 12 ft. h w/ 27ft. opening
Ranch Grand Entry II 30ft. Overall length x 12ft. h w/ 17' opening
Ranch Grand Entry I w/ decor / Subaru
Salvation Army - Midlothian, Texas
QUICK DRAW SETUP AT HILTON ARLINGTON TX
MARLIN ARMS TRADE SHOW BOOTH
GEORGE R. BROWN CONVENTION CENTER
HUNTINGTON BUSINESS SYSTEMS
GAYLORD TEXAN
VitalSmarts Trade Show Booth
Dallas Convention Center
4 Ranch Entry Trade Show Booth
Workforce Software
Gaylord Texan
Windridge Ranch and Saloon Entrys
We can create custom signage for your Special Event
Sportsnet Saloon Entry and Decor
Driftwood , Texas
Desoto I.S.D Schoolhouse Facade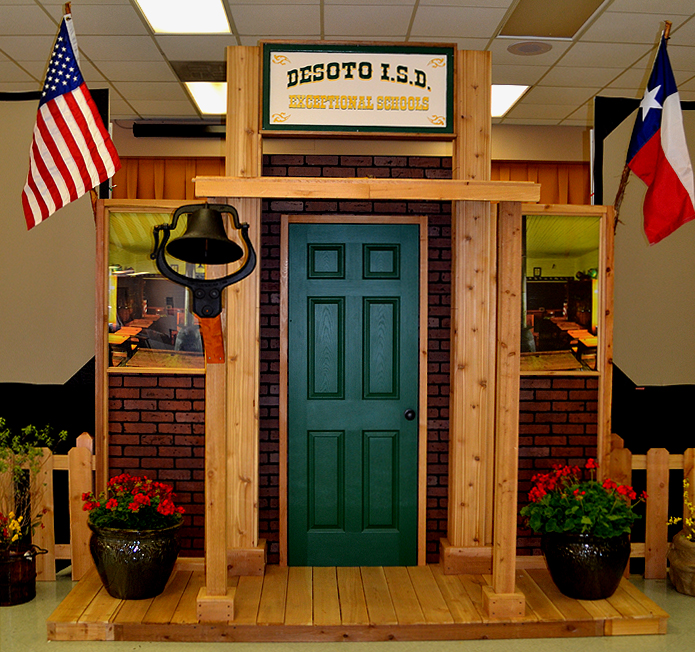 Photo Op'
Garland , Texas
Silverado Ranch Grand Entry
Whiskey, wine barrels & highboys
Yellow Daisy Centerpieces
Red lantern on mini saddle blanket
4ft x 4ft Barnwood Lounge Table - Wood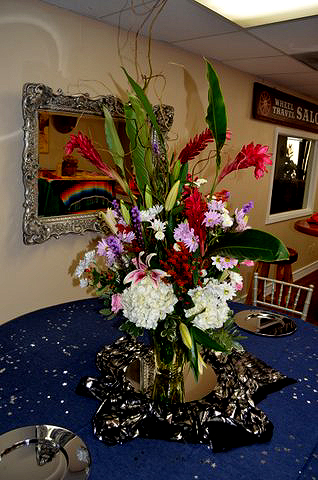 Black Lantern Table Setting
Western Table Setting with Stagecoach Backdrop
Looking for real hay, fake hay, artificial hay, hay bale, fire retardant hay?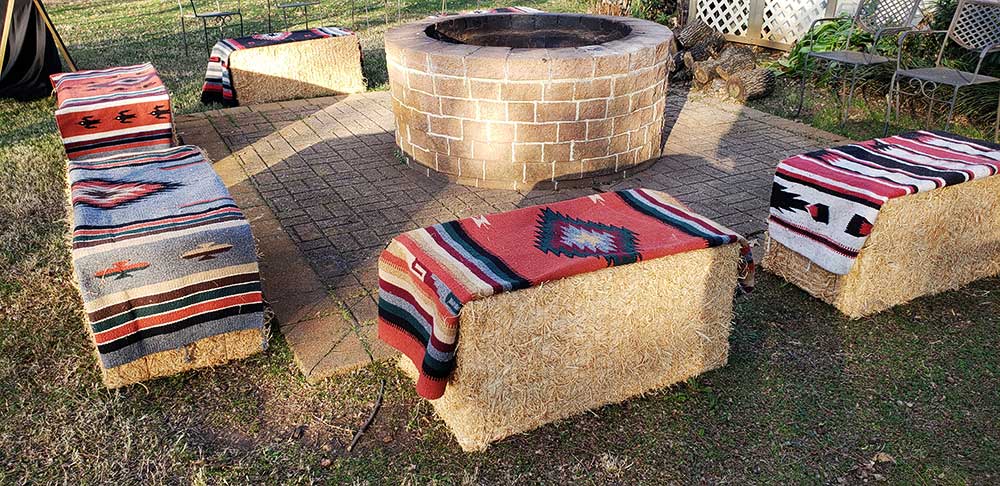 Haybales with westrn blankets
Silverado Ranch Productions has been a prop master over the past 31 years providing a variety of custom authentic and reproduction western props, building facades , cowhide sofas , furniture , farm & ranch equipment, covered wagons , livestock & tack for the Texas film Industry, theme special event planning and production companies, party planners, individuals, restaurant themes and commerical interior designs.
Silverado Ranch is committed to making and providing authentic western presentations. Our designed
atmospheres and decor give event guests a true feeling of being in the old west.
Custom Western Backdrops 20 ft x 12ft
Let us design and set up one of our award winning western ranch, saloon, hotel facades or entry ways for your booth at your convention center or hotel trade show with our unique decorations and decorating style.

Our set builders and artists can duplicate the 1880's construction style and color schemes which are then complimented with our signature time period signage and detailed with authentic props & tools specific to each individual business.
Need some help with theme designing and / or interior decorating for a chain restaurant, night club, trade show booth, or any commerical project that could use a creative artist team to give your business a unique competitive edge in the market place? Silverado Ranch specializes in creative WOW! factor designs and themes!
Red lantern centerpiece w/ bandana, cowboy glitter & root beer barrel candy
From our largest props to our smallest centerpiece, complete attention to detail is
given to create an exciting atmosphere for your guests to experience and enjoy.
We offer a variety of live Texas plants for your greenery selections, a must have to set you away from the herd!
We offer real cedar rails & post fencing in different configurations & designs.

Contact us today and let our design team create your next western special event,
it will go down in the history books as the best in the west!

Be sure to check out our photo gallery or home page to view of our western theme props,
decor, custom back drops, murals, art, building facades and party rental items.

We have those hard to locate items such as a stuffed bull or horse, stand out
custom western backdrops as well as furniture.

If you don't see what your looking for, call us if we don't have it, we'll build it !!
Back drops and props make great photo ops!
Authentic Stage Coaches for props or hook up
the horses and take a stage coach ride
62 - NEW PROP COMING SOON!
1880's Restaurant Row Design
Western Trade Show Booth Cowhide Furniture
20ft.W x 12ft.H Steers at watering hole back drop
10ft. x 20ft. Western cedar rail & post ranch entry
Ranch Entry w/ whiskey barrel highboys
and hay bale bar stools
12ft h x 30ft w Custom back drop
SALOON ENTRY #1 - OLD WEST
Saloon Entry #2 - Southwestern - 10ft. x 10ft.
Double sided w/ customer signage
Saloon entry w/ decor, custom sign & greenery 20ft. wide Colorful Saloon & Ranch
entries w/cedar rail fencing for western theme decorating
20ft. wide x 12ft. high Saloon Interior Back Drop
Inside View of Double sided Saloon Entry
76 - NEW PROP COMING SOON!
Our fresh cut custom cedar fence sections available in any lengths
and they are available for purchase or rental. Call for price quote
Cedar rails are available in 4' 6' 8' & 10ft. lengths.
We leave on the bark for that authentic Old West look!
4ft cedar rail fence section (shown above) w/ posts that are 50in. tall x 5in.
round & available w/2in. end, inline or corner holes for 3 rung rail set up.
The best cedar rail fence support base available. 15in. round x 3/8 in.
thick metal 25lb. base w / 1in. x 7in pipe stand
Additional / optional western props, cedar fence sections &
live native Texas greenery for your entry or booth!
Ranch entry with totem pole (optional)
20ft ZigZag Cedar Rail Section with 9ft Saguaro Cactus
6 ft decorated cedar fence vignette
4ft x 50in Cedar Rail Section with with decor and greenery AA
2 ft. Cedar Fence Section
10ft. x 60ft. Cedar Fenced Trade Show Booth
NEW SAGUARO CACTUS - 9FT. TALL
12ft. Cedar Fence Corner Section w/ Decor & 8ft. Saguaro Cactus
10ft OLD WEST ROADWAY DIRECTIONAL SIGN POST
We can create custom signage to compliment any theme
Authentic Western Stagecoach
Western Stagecoach Depot Backdrop
Artificial Hay Bales / Steer Skulls & Deer Mount Sales and Rentals
Texas Longhorn Steer Mounts
Full size stuffed bucking Brahma Bull
It's not a real Texas Special Event without the Mechanical Bull!
*Requires a 220 volt power connection
Life Size Props Available
12ft. Windmills Custom sizes available call for pricing & availability
5 1/2 ft. wide x 42in x 28in. Texas Bar
6ft 2in h x 6ft 4in w x 20in deep Texas Back Bar
Wheel Travel Saloon Bar 8ft x 42in x 24in
Whiskey barrel highboy w / 24" tooled top
Western Buffets and decor & more
Denim and Red Bandana Table Setting
Mexican Theme Table Setting
Have questions about your specific event needs?

Call us for a party, special event or theme prop rentals consultation. We highly
recommend that you schedule a FREE site survey. Our experienced theme event
planners can make suggestions and make sure that every last detail is covered.
ALL RIGHTS & MEDIA RESERVED: Silverado Ranch 2023